Benefits of an EdTech Platform
by Anubhuti Agarwal, Posted on 30 September 2020
EdTech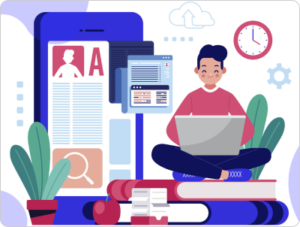 .
COVID-19 has brought the entire education system on its knees and has hit the global economy in the worst ways. Every sector is facing a downfall due to the global pandemic. The educational institutions are shut and are the hardest hit due to the crisis. This is something that made us realize the importance of technology in educational fields.
Read on to explore the major benefits of an EdTech platform.
Key Benefits of an EdTech Platform
The key benefits of an EdTech platform are as follows:
EdTech platforms can educate a huge population from a single stage. They offer personalized learning to a large number of students in the comfort of their homes.
Animations and visuals help the students understand things in a better way and cultivates a child's interest. This platform is of great importance to instill creative among the children.
The interactive sessions initiate collaborative learning. It encourages rational thinking and broadens their horizon. The content is provided in multiple languages that is helpful for the students belonging to different regions.
The parent connects apps keep the parents up-to-date about the student's performance.
Live assessment apps and instant feedback facilities help the students know their shortcomings and provide scope for improvement.
The online testing platform has made it possible to undertake tests and assessments which tracks the student's performance.
The student's can ask their doubts through chatbots where the teacher replies instantly. The question-answer round during the chats enhances the thinking abilities of the students.
The latest learning management systems help the educators to deliver and manage the educational content.
The EdTech platforms connect the teachers and students in and out of the schools by facilitating enhanced education, organizing assignments, and tracking the work force.
Any educational video or document can be attached or downloaded due to the G-suite integrated system.
The content gets automatically saved into the cloud-based system.
EdTech platforms have completely transformed the face of traditional education. It has given directions to the modern education system. This will help the students to stand among today's workforce in future. EdTech platforms are not the substitute for traditional education, rather, they make it more effective. It fosters one-to-one student-teacher interaction that is not possible in the physical classroom.