4 ways how AI works in the education sector
by Vineith Kaul, Posted on 23 December 2021
Artificial Intelligence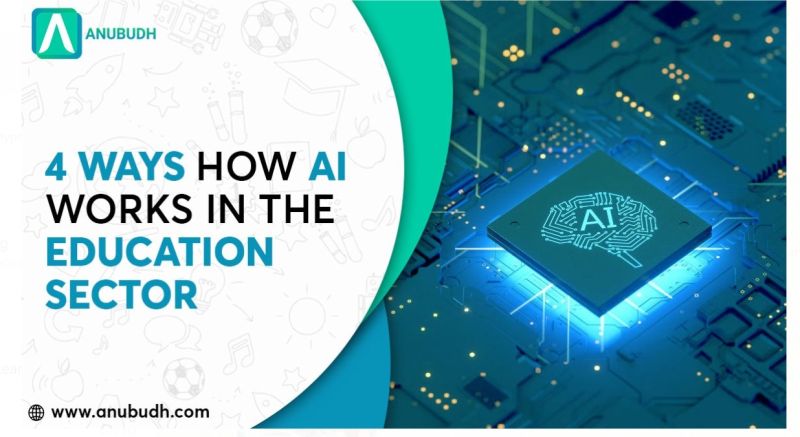 .
4 ways how AI works in the education sector
Artificial intelligence (AI) has had a tremendous impact on all industries and the Education sector is no exception! While it is enhancing the capacity of institutions and the abilities of teachers, it is also revolutionizing the way students learn! As per the leading research website, 'Market Research Engine' the AI market in the education sector will reach $5.80 billion by 2025 growing 45% annually.
The impact of AI in changing the education industry includes (but is not limited to) the following:
~ Task Automation
A growing number of learning management systems incorporate artificial intelligence (AI) to grade tests and manage administrative tasks like managing attendance, tracking reports, & delivering content. This saves a substantial amount of time for educators, so they can focus more on tailoring their curriculum to individual students' needs and less on busy work.
~ Personalized Learning
All students are unique and approach learning very differently. Instructors cannot always personalize their teaching strategies for an entire class, AI can be of great help. It can adjust to each student's knowledge level, pace, and desired goals to make sure they get the most out of their education. AI-enabled solutions can also analyze students' past learning histories, identify weaknesses, and suggest course correction activities.
~ Smart Grading
In smart grading, students upload their assignments to the platform, and the platform sorts and groups answers and assign grades. AI reduces the time teachers spend grading by a great deal and provides detailed analytics of student performance.
~ Inclusive Learning Environment
Through AI, students can access course readings on different devices from anywhere, on a variety of platforms. AI helps to reduce barriers in learning by making information equally accessible to all learners by presenting the same content in varying materials.
We, at Anubudh, specialize in creating custom AI-enabled digital solutions for educational institutions. We can handhold you into this complicated world of deep tech which promises to usher in a new era in the Education sector.