Bite-size content in e-Learning
by Vineith Kaul, Posted on 28 March 2022
EdTech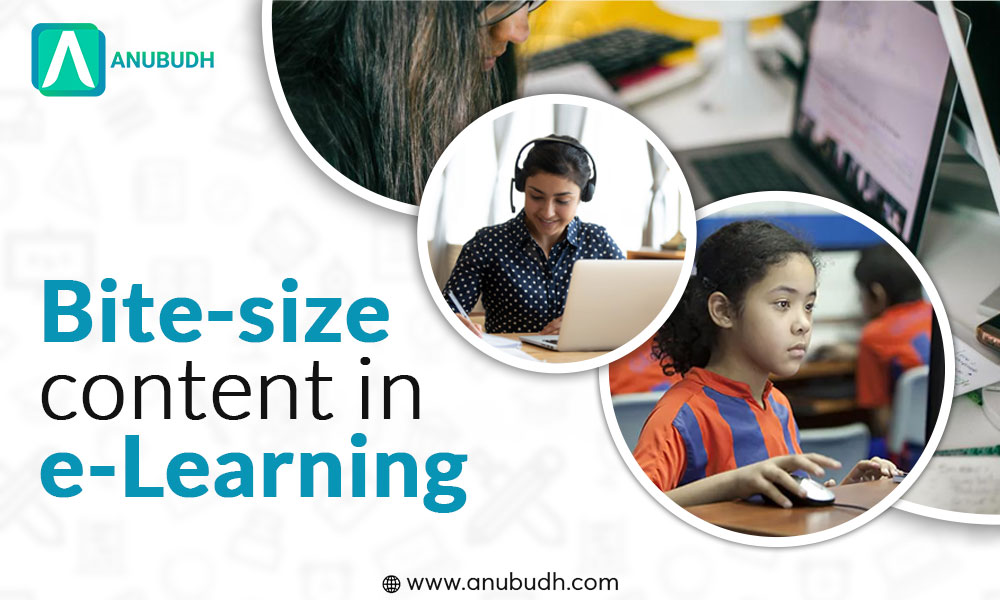 .
Bite-size content in e-Learning
Our attention span has shrunk by nearly 25% in the last few years, from 12 seconds to 8 seconds- a study by Microsoft. 
This is where the problem lies with a traditional eLearning model. Online classes in this model are conducted for 30 minutes to an hour. Additionally, these learning modules deal with diverse learning objectives and require a longer time commitment from the learners. Most learners who seek to upskill look for a quick fix, which results in dropping out of traditional online courses. Hence, bite-size content was introduced as an alternative to traditional eLearning for upskilling.
What is bite-sized learning?
In bite-sized learning, short e-module content is created to convey information and knowledge to learners in a crisp and retainable manner. Also known as 'micro-learning', this type of module lasts between 1 and 15 minutes and addresses limited learning objectives. This way, learners can fit learning time into their busy schedules and learn at their own pace. Here are a few examples of how e-learning can leverage bite-sized content: 
For Learners:
Learning on the go:

With bite-size content optimized for small screens like mobile devices, learners can access learning modules from anywhere and everywhere. There is no need to sit down for long hours in front of a screen, as one can consume content from any place and even on the go. 

Actionable knowledge:

Employees looking to upgrade their job-related knowledge and skills can benefit from the micro-content format. Employees can immediately apply their new knowledge at work thus enabling a quicker ROI. 
For Organisation:
Economical option:

Typically, organizations invest a lot of time and money in developing online modules to upskill employees. Bite-sized content modules are perfect for a dynamic business environment where changes can be incorporated quickly and economically. 

Effective training material:

Bite-sized content is perfect for engaging learners, appealing to their tik-tok type content consumption habits. Nowadays, many firms cater to their employee's upskilling by providing information nuggets as training content.
In eLearning, bite-size content is not only sustainable for upskilling but can be used in school and university settings. Let the expert team of Anubudh guide you to implement this powerful and effective learning tool in your eLearning curriculum. Do reach us at:  https://anubudh.com/