Dawn of AI-enabled Automated Voice and Accent Assessment test
by Anubhuti Agarwal, Posted on 23 December 2021
Artificial Intelligence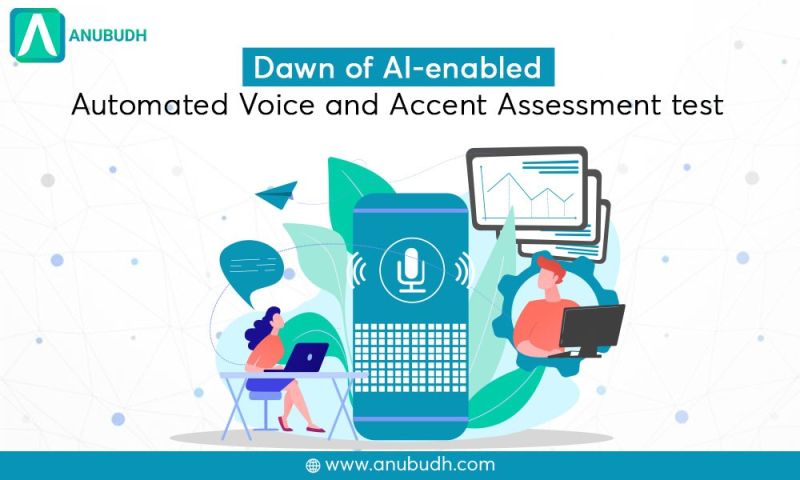 .
Dawn of AI-enabled Automated Voice and Accent Assessment test
Several different applications of artificial intelligence (AI) have been impacting the recruitment industry for quite some time, but the recent pandemic has made them more prominent. In recruiting, artificial intelligence has been utilized to streamline or automate some parts of the recruiting process, particularly repetitive, high-volume tasks. In recent years this technology has penetrated one of the essential recruitment processes- The automated Voice and Accent Assessment (VNA) test.
What is VNA?
A voice and accent assessment (also known as VNA) evaluates the oral skills of a non-native English speaker in any industry. In this test, the candidate is evaluated on the intricacies of the language, such as pronunciation, intonation, grammar, and fluency of speech in English. This type of assessment is used to determine candidates' fit for client-facing roles. Traditionally, an accent and voice trainer conducts the test in a simulated environment where candidates answer telephone calls, respond to recorded messages, or read scripts. However, companies have started to gravitate towards AI-enabled VNA assessments for selecting candidates.
An AI-driven automated online tool allows users to test candidates' voices and accents. The AI tool can provide examinees with a rating, similar to that of a VNA trainer, which indicates their English proficiency and employability. The test measures vital parameters, such as pronunciation, grammar, fluency, and listening skills. This tool simulates the entire VNA-led process but better. It combines the best practices of the BPO industry and other industries that provide services to clients to offer a holistic assessment of the candidates' language skills and proficiency levels.
Anubudh provides innovative AI-enabled assessment tools for HR professionals and educational institutions. Get in touch with us at Online-testing-platform